Heating cables : Range M800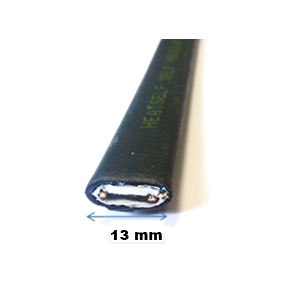 Function :
Self-regulating heating cable for maintaining temperature of pipes, equipments and cisterns.
Decrease heat insulation thickness.
Ensure proper flow of fluids.
Instant hot water.
Ovoid circulating pumps and balancing valves.
Easy to use.
No maintenance.

1 Electrical semi-conductive polymer
2 Nickel Plated Copper Strand
3 Polyolefin Electric Insulation
4 Aluminium/polyester shielding tape with overlap 8 x diameter 0.4 mm
5 Thermoplastic outer jacket, Thermoplastic elastomer, Thermoplastic polymer vulcanized, polyurethane
Features :
Supply electrical voltage : 230Vac
Maximum rating temperature with power on : 80°C
Maximum exposure temperature power off : 100°C
Temperature classification (according to European Standard EN 50014) : T4 (135°C)
Minimum installation temperature : -20°C
Minimum bend radius at -20°C : 30 mm
Minimum bend radius at 20°C : 13 mm
Weight : 90 kg/km
Maximum conductor resistance at 20°C : 15,29 Ohms/km
Electrical protection resistance : 14 Ohms/km
Diameter conductor stranded nickelled copper : 1.43 mm
Section conductor : 1.23 mm²
Color : Black
Properties :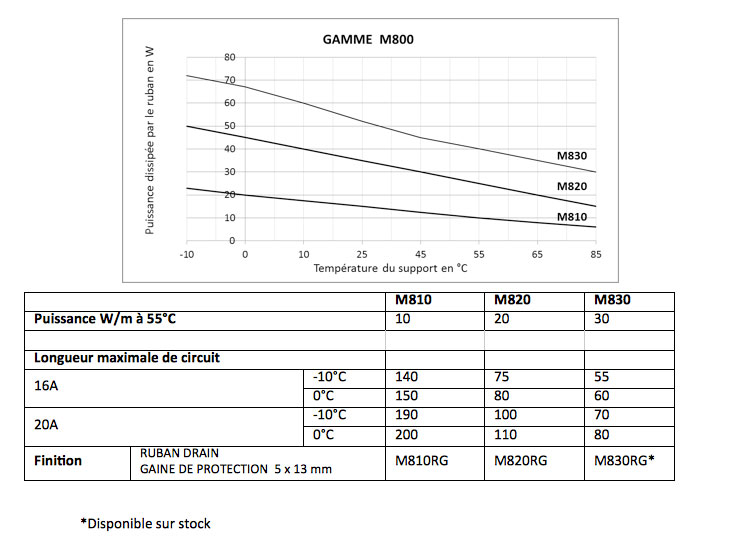 Application :
Area classification
Ordinary area
Nature of pipe
Steel
Painted surface
Stainless steel
Plastic
Chemical resistance
Elastomer thermoplastic
Polyolefin
Electric protection
Self-regulating cables must be installed with a circuit breaker or a differential magneto interrupter (curve C or K) 30mA caliber in order to assure physical people and self-regulating tape protection. (D NFC 15-100 Norm).
Indispensable accessories for installation :
Endings kit (KT01), connection case (BR03), aluminium adhésive tape (A01), Thermostat (TH01).
Installation accessories :
Case support (SB01), stainless steel collars (CL01).