Heating cables : Range B300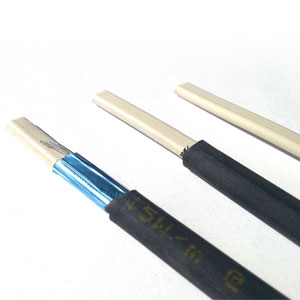 Function :
Self-regulating heating cable for frost protection without steam cleaning of pipes and reservoirs.
Heating cable offsets heat loss and makes it possible to decrease thermal insulation thickness.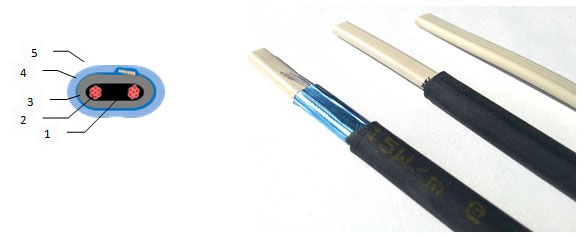 Réf.
1 Electrical semi-conductive polymer
2 Nickel Plated Copper Strand
3 Electric Insulation with polyolefin
4 Aluminium/polyester tape shielding with overlap 8 x diameter 0.4 mm
5 Thermoplastic Outer jacket, Thermoplastic elastomer, Thermoplastic polymer vulcanized, polyurethane
Features :
Supply electrical voltage : 230Vac
Maximum rating temperature with power on : 50°C
Maximum exposure temperature power off : 65°C
Temperature classification (according to European Standard EN 50014) : T6 (85°C)
Minimum installation temperature : -20°C
Minimum bend radius at -20°C : 30 mm
Minimum bend radius at 20°C : 13 mm
Cable theoretical weight : 66 kg/km
Maximum conductor resistance at 20°C : 33 Ohms/km
Electrical protection resistance : 14 Ohms/km
Diameter conductor stranded nickelled copper : 0.96 mm
Section conductor :0.56 mm²
Color : Black
Properties :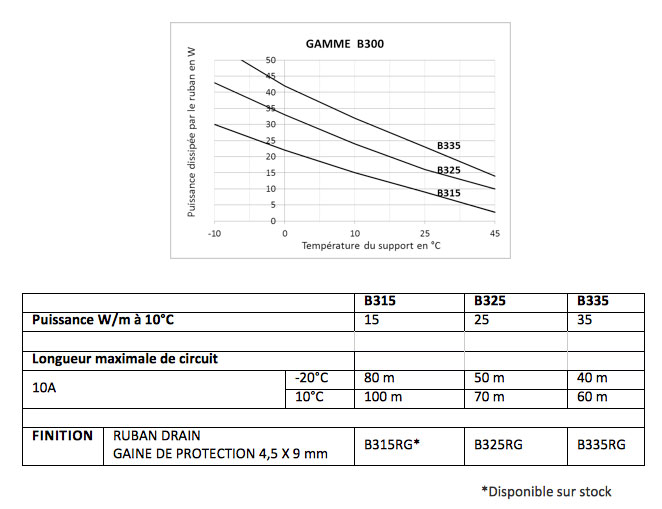 Application :
Area classification
Ordinary area
Nature of pipe
Steel
Painted surface
Stainless steel
Plastic
Chemical resistance
Elastomer thermoplastic
Polyolefin
Electric protection
Self-regulating cables must be installed with a circuit breaker or a differential magneto interrupter (curve C or K) 30mA caliber in order to assure physical people and self-regulating tape protection. (D NFC 15-100 Norm).
Indispensable accessories for installation :
Endings kit (KT01), connection case (BR03), aluminium adhésive tape (A01), Thermostat (TH01).
Installation accessories :
Case support (SB01), stainless steel collars (CL01).